Paul S Levy, Chairman of the Board at Builders FirstSouce Inc. (Nasdaq:BLDR) significantly increased his stake in the building products manufacturer by 10%, buying 100,000 shares on Sept. 6 on the open market at $15.98.  According to a Form 4 filed with the SEC on Sept. 7, Levy increased his stake to 1,117,984 shares or about 1% of BLDR's shares outstanding.
Levy is the Managing Director of the private equity firm JLL Partners which he founded in 1988.  Levy and JLL's relationship with Builder's FirstSource dates back to 1998 when BLDR began a series of acquisitions which, along with internal expansion, has grown the company into the largest supplier to the residential home builder industry, with sales of $7.45 billion.
While it could be a coincidence, Levy's purchase came a week before Hurricane Florence, a potentially devastating storm, was on track for landfall at the Southeastern U.S. coast. Two other hurricanes were also building in the east Atlantic. Builders FirstSource is the largest supplier to the U.S. residential home builder industry, supplying lumber and manufactured building components. In the unfortune event of major hurricane damage to the U.S., BLDR would likely see an increase in demand for its products.
Builder's FirstSource – 2-year chart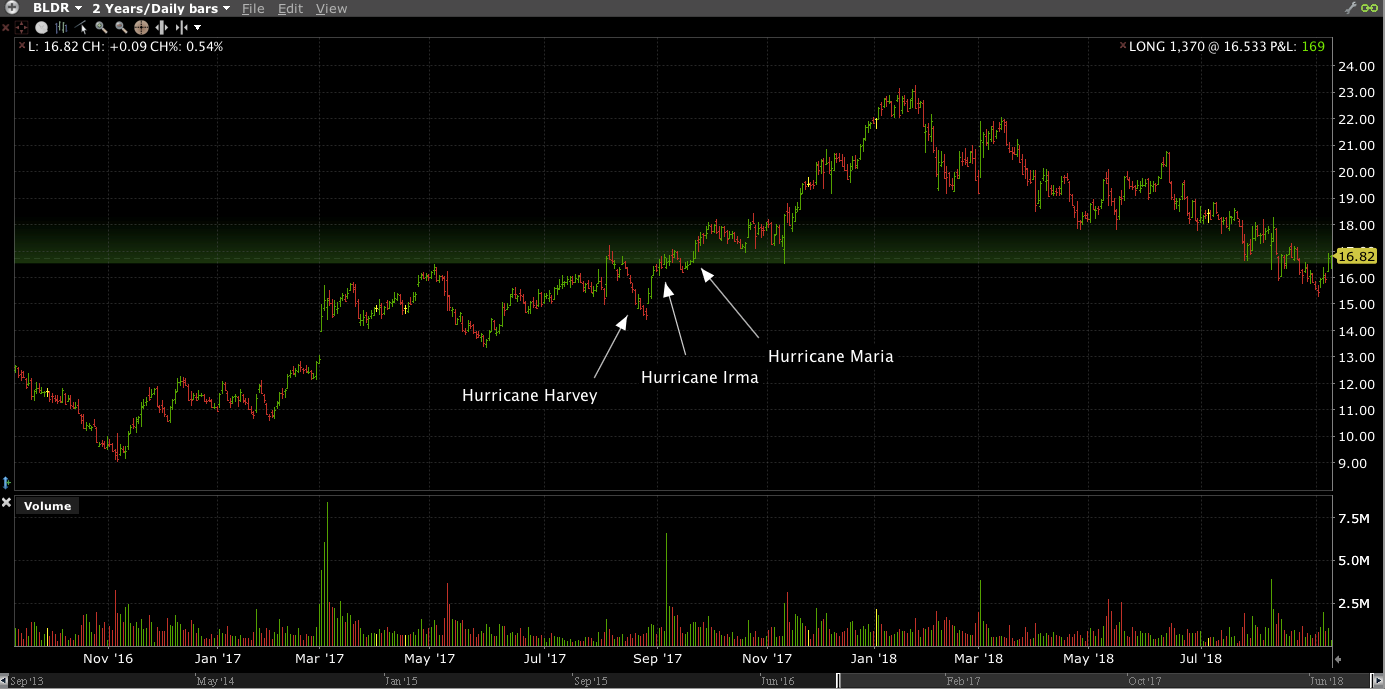 Source: Interactive Brokers
Last year's devastating hurricane season and its aftermath coincided with a strong 4th quarter for BLDR – the shares moved from $15 in early September to $23 by year end, a gain of 53%.
As of this writing, other building industry stocks were seeing gains in their shares, including Beacon Roofing (Nasdaq:BECN), Trex (NYSE:TREX) and generator manufacturer Generac (NYSE:GNRC). Lowe's (NYSE:LOW) and Home Depot (NYSE:HD) shares were also firm.
Dallas-based Builders FirstSource reported 2nd quarter earnings on Aug. 7 of $56.6 million or 49 cents per share. The results were short of expectations. BLDR is down about 23% year-to-date.
Levy's insider purchases follow $770,000 of insider sales by two BLDR directors in early August. While nearly concurrent insider buying and selling muddies the insider sentiment picture for BLDR, we know that insiders sell for many reasons, but insiders typically buy for only one reason – they expect shares to go higher.
Buy BLDR with a stop under $15 and a profit target of a return to 2018 highs — $23.